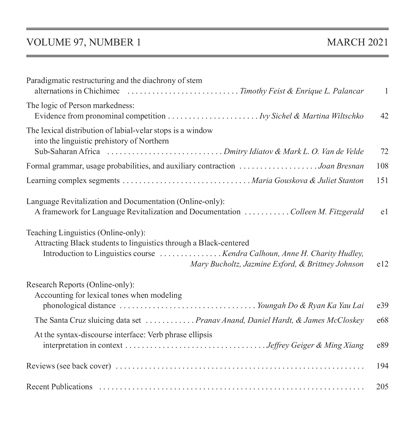 ==============
NEW DEADLINE: January 31, 2020. Responses to Perspectives article: "Toward Racial Justice in Linguistics"
Call for submissions related to the UN International Year of Indigenous Languages
===============
Language, the flagship journal of the Linguistic Society of America, publishes peer-reviewed articles dealing with issues in linguistic theory and a wide range of subfields of linguistics and related disciplines, as well as book reviews, notes of interest to the academic and professional linguistics community, and commentary of various kinds. The journal is published both in a print edition and on online platforms containing both the print-edition content and online-only content in such sections as Research Reports, Language and Public Policy, Perspectives, Commentaries, and Teaching Linguistics. Some of the most newsworthy research published in Language is periodically featured in LSA News Releases. For a collection of the very best articles published in Language, please see the Language Anthology.
Access to Language – To access published volumes of Language, please visit our partners for online publication: Project MUSE and JSTOR. More information about individual subscriptions is available at this link.
Teaching Linguistics is an online-only section of Language featuring high-quality scholarship that analyzes a pedagogical issue, introduces an innovative teaching methodology in linguistics, or reviews textbooks and pedagogical materials related to the teaching of linguistics. More ...
Language and Public Policy is an online-only section of Language that features original, high quality scholarship exploring and analyzing areas of public policy that benefit from the findings and methods of linguistics. More ...